I've found a manip on my pc which I made a few months ago. I don't think I've ever posted it.
It's Dean with a baby. Isn't there anything cuter than a man with a baby (besides puppies of course *gg*).
TEASER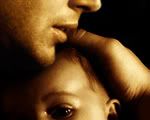 I'M YOUR GUARDIAN ANGEL
ICONS
You can use the icons without text as bases.
| | |
| --- | --- |
| | Current Mood exhausted |