Looks like I'm very kinky today. *gg*
Yesterday I made a storypic for the sweet
spnfan99
. She wrote (and still writes) a fantastic - but very dark!!! - salve!fic, which is called "
My pet Dean
". It's still WIP, but if you like dark slave!fics you should really check it out! ;o)
After I gave her the pic and the matching icon, I got a request to also make a wallpaper out it. So here is the result
TEASER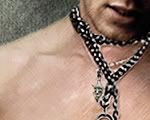 BEWARE NC17: It contains bondage!

(Not really worksafe, because it includes chains)

SLAVE
Thank you so so much to
nosurething2 for helping me with the lyrics!!
You are awsome hun'!!!
And because I love her little poem so much (and because it's hard to read it on the header), I type it again here:
You may hurt, enslave and torture me
Take away my dignity
You may force me to kneel, with no kind word ever spoken
Despite all that, my spirit will never be broken
| | |
| --- | --- |
| | Current Mood naughty |