I made a tutorial for this drawing style icon.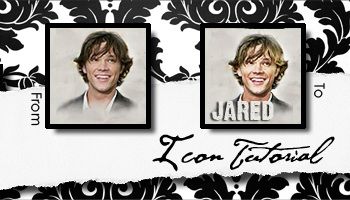 Program: Photoshop CS2



I used

THIS

picture of Jared Padalacki for this icon.

First of all I took

THIS

texture. (Sorry I don't know who made it)

Now let's start by cropping and sharpening the image.

Duplicate your layer and desaturate it.
Set the layer on
LINEAR BURN
and the
opacity 40%
.

Duplicate the desaturated layer and invert it by
CTRL-I
or
Image - Adjustments - Invert
.

Change the blending mode to
COLOR DODGE
. Now it looks mostly white But don't worry - it is supposed to look like this! ;o)

Go to the filter menu and choose
BLUR - MOTION BLUR
. Adjust the level until you like the result. I set mine to
Angle - 80 / Distance 25 px
. But this depends on the picture you're using.
Now set the
opacity
of the layer to
70 %
.

You can add some text if you like. I wrote JARED by using the font
DIRTY HEADLINE
.
And that's it: