Okay, I've no clue where to start....
First of all: NOW it's official - I've just got my special ticket to hell! I'm going to the dark side and you know why? I love wincest! *ggg* But no worries: You'll still get your non-wincest stuff! Seriously! Promise!
I was inspired by the gorgeous vid "
Lips of an Angel
" by
nina_nicky
and I still blame my sister in art
sleepless3333
- she tried to convince me in wincest from the first time we've met. *ggg*
TEASER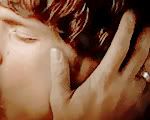 WARNING: IT'S WINCEST!!!


Current Mood nervous

Current Music Hinder - Lips of an angel