Every year I make a new Halloween layout. This year I'm pretty late. It really was a bitch this time. *sigh*
STYLE

:
S2 FLEXIBLE SQUARES
NAVIGATION BAR:
YES
HEADER:
YES
TEASER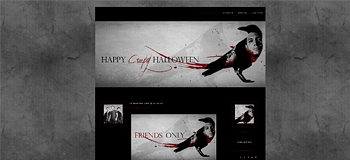 PREVIEW
(SCREENSHOT)
/
PREVIEW
(LIVE)
You can download the zip-file
HERE
(Including the css-code, header, f-only banner and icons)
ICONS



Only one rule:
NO HOTLINKING
!!!
If you need the header in a smaller size (750 x 290) click on the preview

Upload the header to your own host and change the link in the css code here:
INSTRUCTIONS
GO TO: Manage Accounts --> Customize Journal
GO TO: Select a new theme
- Type into the search box: "Flexible Squares
"
GO TO: Customize your Theme
GO TO: Custom CSS Code
MAKE SURE: You

disable:
- Use Layouts Stylesheet(s)
- Use Layouts Stylesheet(s) when including custom external stylesheet
- Use External Stylesheets
NOW: Copy and paste the CSS Code into the box
HIT: Save changes
| | |
| --- | --- |
| | Current Mood restless |